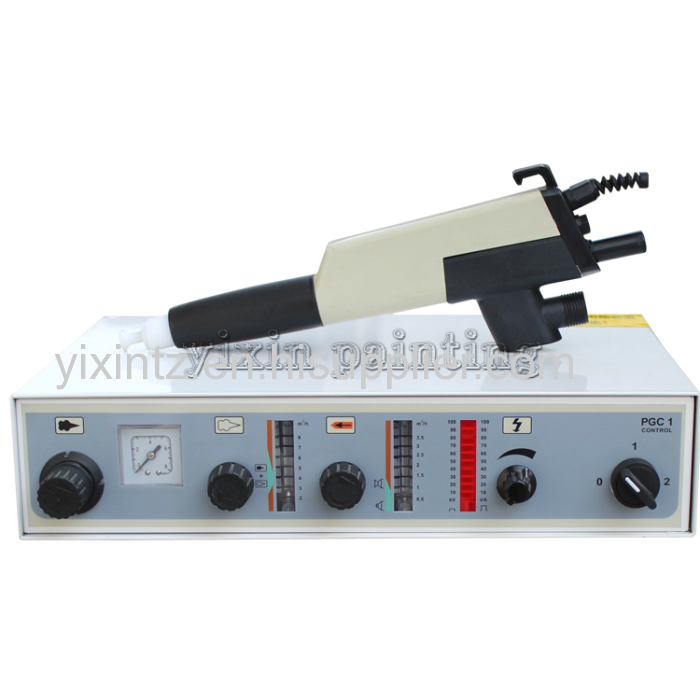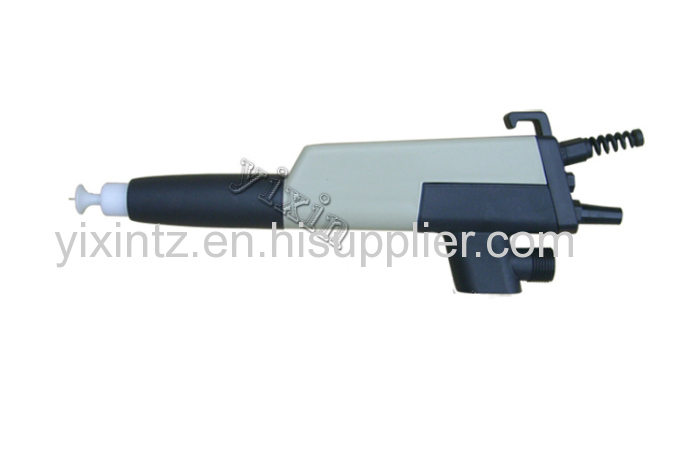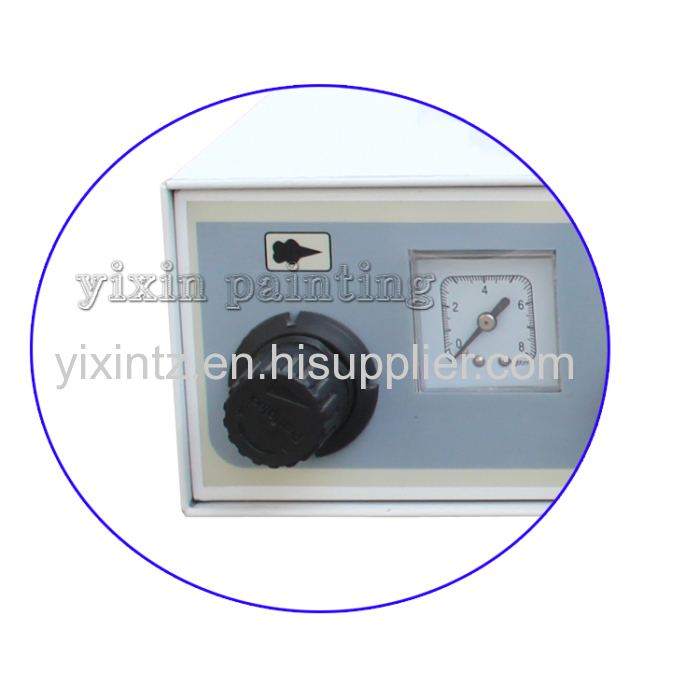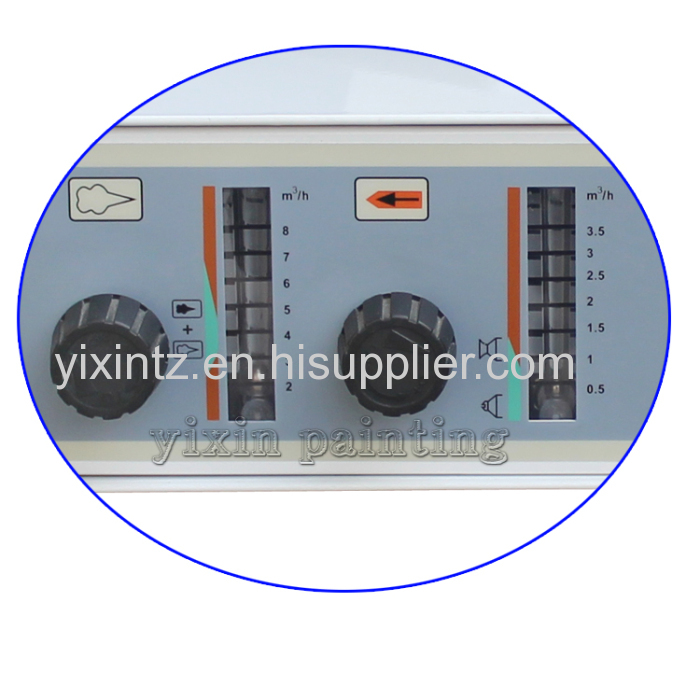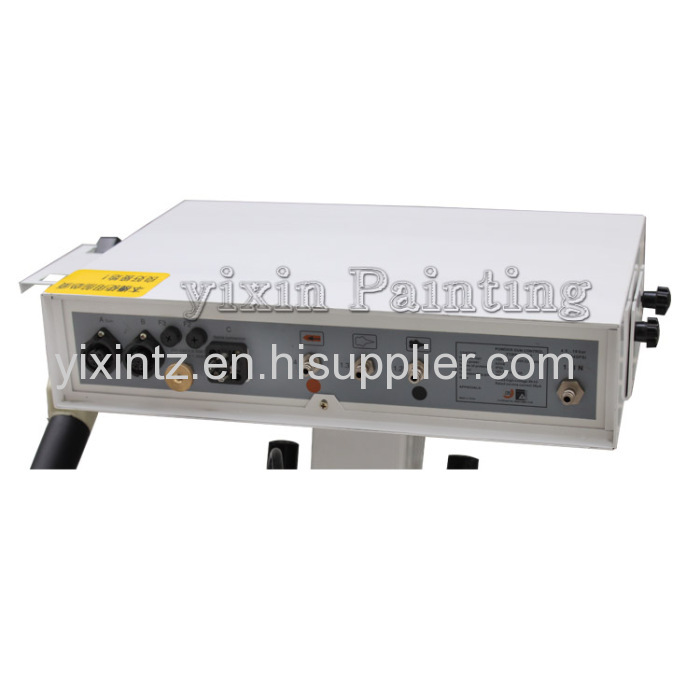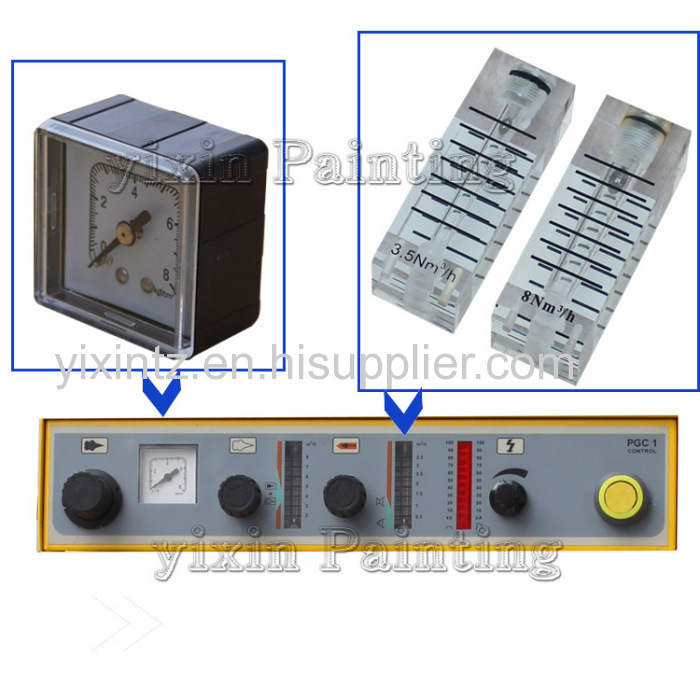 By spray gun for my own open mold development and production company, has a variety of colors



YX-004 Electrostatic powder coating machine: (PG1)

Main data:
Input voltage: AC180V-240V/50HZ
Output high voltage (gun): 0-110KV
Input power: 40W
Weight: 30KG
Air pressure: 0.5Mpa-0.8Mpa

Main configuration:
Spray gun * 1 + powder pump * 1 + host * 1+ powder hopper* 1 + trolley * 1 + air pressure control valve * 1+ oil water separator * 1


| | | |
| --- | --- | --- |
| Host | For the powder and gas source | Spray gun |
| Input voltage: 200-240v 50Hz | Solenoid valve control voltage: 24VDC | Input pressure: ≤0.3Mpa |
| Input powder: 50W | Input pressure: 0-0.6Mpa | The volume of the powder: max550g/min |
| | Output pressure: 0-0.5Mpa | Output voltage: 0-100KV |
| | The largest gas consumption: 13.2m/h (0.4Mpa) | Output current: 0-200uA |
| | Volume of powder barrels: 50L | Gun weight: 460g |




1,High voltage module near the nozzle, make waste less voltage, high voltage components can be replaced, brings convenience to maintenance.
2,Low rotary atomizing air, greatly improving the coating quality.
3,Intuitive for powder reasonable two-way flow meter display.
4,Low because chooses big flow pneumatic components in smaller airflow pressure, still can achieve higher amount of powder.
5,For powder device is full stainless steel, can need not tools can easily remove and clean all parts.
6,Two lines of the design of the central gas, make a needle guide body no longer product powder, strengthened the discharge effect, improve the rate of powder.